Performance Safe
Install PluginsIntroducing The Hunter, a revolutionary performance Gun Safe from the legendary Mutual Safes factory.
Designed exclusively to combine strong room level protection with aesthetically pleasing finishes, The Hunter delivers a performance to behold. With a CAT2 ADM barrier material rating and a rugged Dual Direction 45mm Lock Bolt System, The Hunter provides an immovable, no-nonsense security solution for up to 8 rifles. Handguns and valuables are equally at home on the beautiful superior quality wooden shelving, which is available in a variety of colour and configuration options.
The unique .50 Cal replica cartridge handle spokes and optional key, combination, digital or biometric locking systems compliment the working parts perfectly and the two-tone external finish boldly states that your firearms and valuables are Safe and Secure.
For the discerning firearm owner who is serious about protecting their assets, The Hunter stands alone as an uncompromising, heavy-duty Safe that delivers on its promise.
Mutual Safes invites you the peace of mind of knowing that your firearms are not just stored in a Gun Safe, your firearms are stored in The Hunter. Make it Your Hunter!
Specifications
Height: 1745mm
Width: 645mm
Depth: 670mm
Body: 75mm
Door: 70mm
Weight: 875 Kg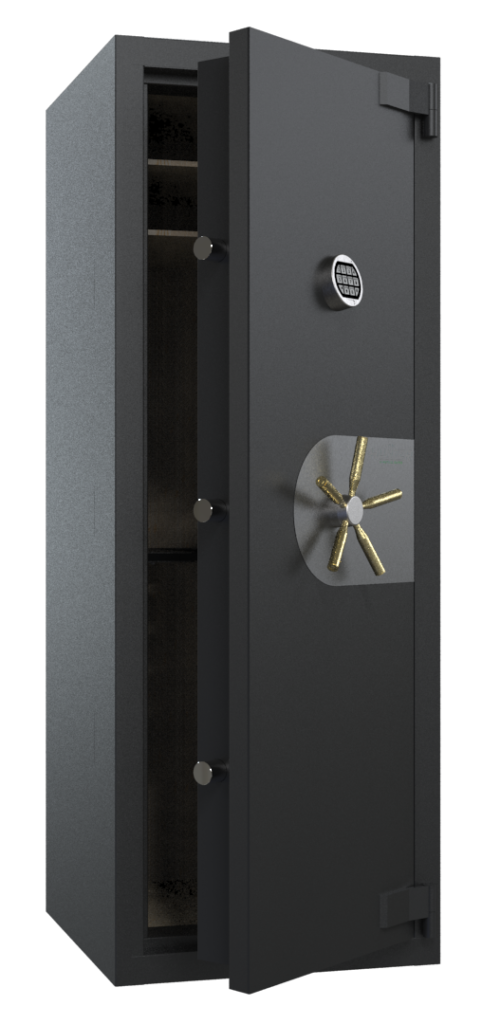 Two Colour Options Available
Fully Customisable Interior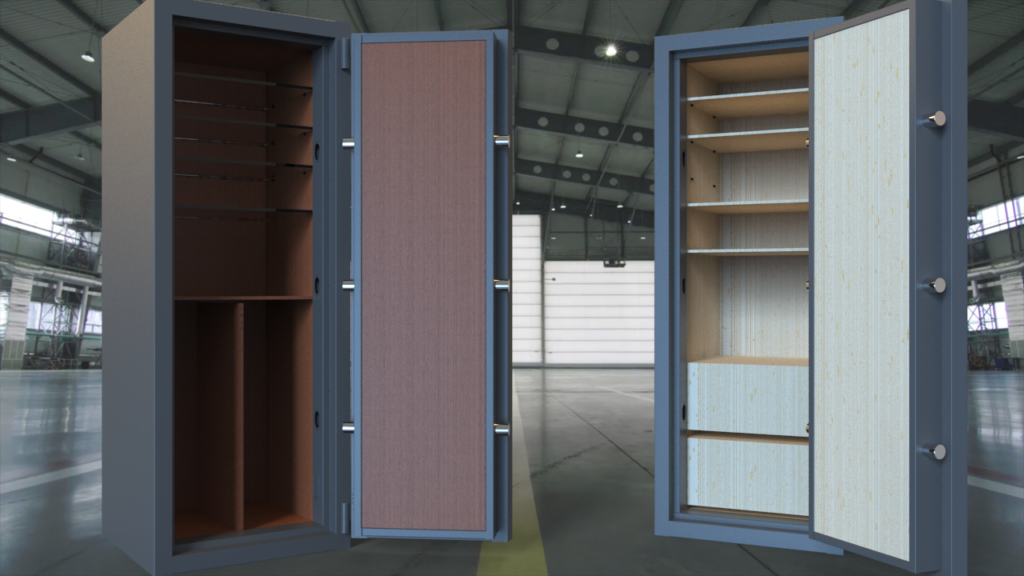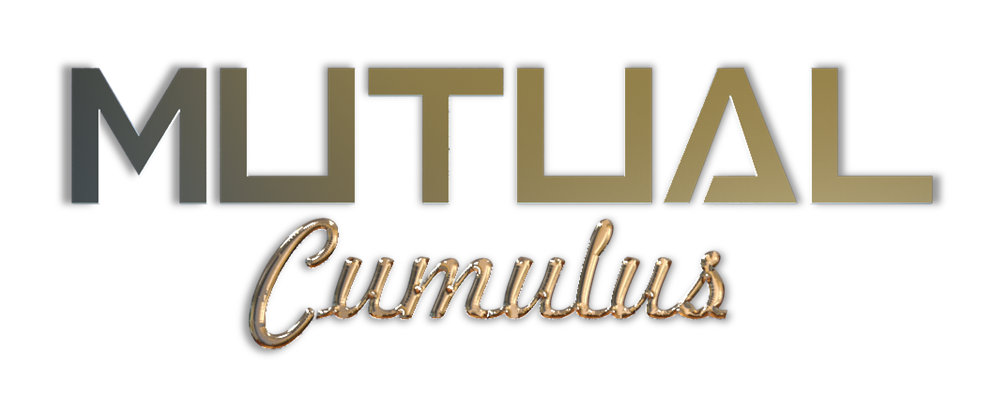 MUTUAL SAFES proudly presents The Cumulus, a revolutionary Executive Rifle and Valuables Safe without peer. With its unique design and high gloss paint finish, the Cumulus stands head and shoulders above the rest. The Cumulus comes with standard two tone paint finish, resplendent Blue with a White door, Red with a Black door, and White with a Black door.
The standard interior configuration boasts a full length top glass shelf, and rifle rack and three half width wooden shelves. The Cumulus design provides options for a custom interior tailored to suit the individual. For example, additional rifle racks can be added, jewelry or standard drawers can replace the wooden shelves, or your Cumulus can be fitted with glass shelves from top to bottom.
The Cumulus Executive Safe is not a product to be hidden but rather one for tasteful display in any environment, at home or in your office. For further information about The Cumulus, or to secure one of the first ever made, please do not hesitate to contact us at info@mutual.co.za or 012 803 6051
Cumulus Sizes
Cumulus – Standard
Height: 1505 mm
Width: 765 mm
Depth: 665 mm
Weight: 290 Kg (without drawers and shelves)
Cumulus – Large
Height: 1830 mm
Width: 1060 mm
Depth: 745 mm
Weight: 499 Kg (without drawers and shelves)