When it comes to magnetic media such as diskettes, CD's, DLT Tapes and even rare collector items such as stamps and collectors cards, it is important not to underestimate two key factors. Firstly, such items are extremely sensitive, and secondly, they are usually irreplaceable. The Mutual Data and fire safes ensures that all your data and valuables are protected.
The interior temperature is kept below 125 °F even while the exterior temperature exceeds 1800°F for a 2 hour period
The interior humidity level remains below 85% during the same period
Cutting edge smoke seals prevent smoke, dust and similar airborne contaminants from entering the safe
A Sealed inner compartment prevents any transfer of magnetic interference
The Mutual Data safe employs a tamper proof electronic lock entry pad as well as a detent device which automatically locks and seals the door when closed
Construction for fire safes
A 90mm door with 3-way moving boltwork is filled with a solid casting of state of the art fire resisting material, resulting in a 2 hour tested level.
The safe body of 90mm is constructed in a similar fashion to provide 6 sided fire protection. The special wooden insert of 65mm thickness with special seals provides the ultimate protection required for data, against all threats.
Protection for fire safes
When it comes to media such as CD's, memory cards, Flash drives, external hard drives and even rare collectors items such as stamps and collectors cards, there are 4 major factors which can cause irreparable damage: Heat, Humidity, Magnetic Interference and unauthorized access. The Mutual data Safe ensures that all your valuables, data or otherwise, will be protected.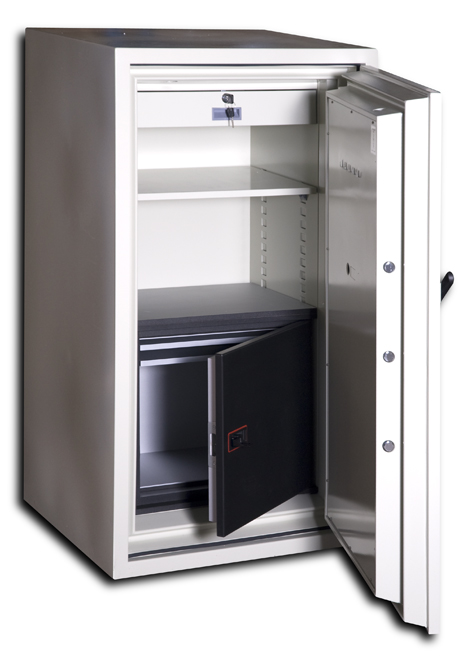 RS Fire Safe Range
The Rhino Fire, Burglary and Office safe offers fire and burglary protection with enormously increase storage capacity.
The safe provides an affordable way to store important documents and other valuables without compromising their security.
12mm Solid high tenstile steel door 65mm overall
Three solid chrome plated 20mm locking bolts
Spring loaded tempered relocker
Adjustable Shelves
Bolt down hole
Stainless facia plates
Construction
The Rhino Fire, Burglary and Office safe is constructed of top quality materials such as steel to BS4360-430 MPA tenstile strength. Two inches of high density concrete is encased within the steel creating a formidable barrier against criminals and fire alike. Rhino Fire Safes are lab tested for 60 minutes at 1750°F. State of the art fire retardant material is encased within high density concrete.