Meet the new MUTUAL Security Robot. With state-of-the-art robotic technology, our intelligent robotic system is deployed as an integral component of existing video surveillance security solutions.
PUBLIC SAFETY
Mutual Security Robot provides a powerful events-reporting tool to detect specific human activities or objects, and alerts security guards or management to take immediate action.
Recognizes predefined suspicious activities/objects, i.e. fighting, loitering, knives
Drastically reduce false alarms (i.e. animals, light changing) with enhanced deep learning algorithms
Security guards can ride the robot (20 km/h) to arrive quickly on scene
PARKING LOT
Automatically detects parking violations and suspicious human activity, preventing dangerous situations from occurring or escalating.
No-Parking Zones may be drawn into camera views and create alerts
It captures clear car images and plate numbers when a vehicle has stopped in these areas
Notifies security staff immediately when intruders or break-ins are detected
SMART FACILITY
Adds artificial intelligence to your buildings, campuses or communities, to prevent criminal activities and speed up responses to medical emergencies.
Recognize suspicious activities, deter vandalism and prevent crimes
Seamlessly integrate our intelligent mobile robots & drones with existing surveillance systems
When events do occur, significantly shorten the response time
INDUSTRIAL
The powerful A.I. algorithm can detect intruders in secured zones by excluding non-human events such as lights changing or leaves shaking, perfect for monitoring industrial complexes.
Send timely warnings and accurate notification of unwanted visitors in restricted areas
Our intelligent robot can act as an effective patrol security solution, helping with repeated and sometimes dangerous work with lower costs
RESIDENTIAL
The home security monitoring solution allows 24/7, indoor/outdoor remote monitoring from your Smartphone.
By detecting only human activity, we significantly reduce false alarms from pets or changing light patterns
We can also program pre-defined activities, such as people falling down as medical emergency alerts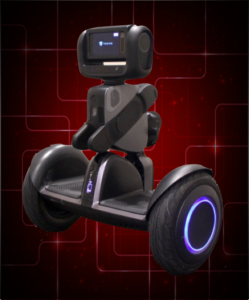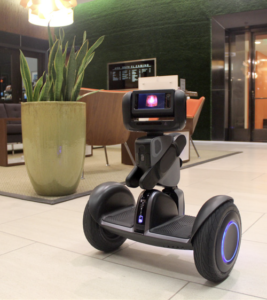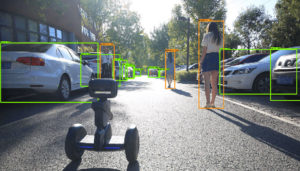 FEATURES
24-Hour Patrol
Full Coverage Service with Human and General Object Recognition
Activity Recognition
Recognize Suspicious Events that Users Care About
Alert and Action
Real-time Alert with Video Evidence and React accordingly
Simple Control
Operate Your Robot on Mobile Devices from Anywhere