Choice of locking and entry systems
Ballistic Protection
Easy installation
Provides extra protection against physical attack
Designed for location at staff entrances
Constructed to ward off determined raiders / intruders
Mutual is a fully approved ISO9001-2000 company. Mutual products are manufactured in South Africa. Our policy is one of constant improvement, therefore we reserve the right to alter any part of the specification outlined, without incurring liability. Mutual equipment is fully approved by all security equipment authorities, local as well as abroad.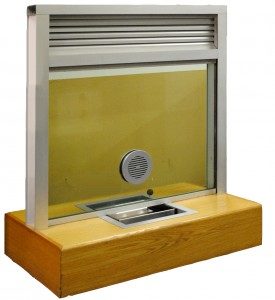 Window Type 1 Shallow Trays – PWI Classification
| | | |
| --- | --- | --- |
| Level | Classification | Description |
| G1 | Handguns up to and including 9mm Parabellum | Purpose made bullet resistant pay window glazed in 28mm glass |
| G2 | Handguns up to and including .357 Magnum as well as 12 gauge shotgun firing buckshot | Purpose made bullet resistant pay window glazed in 38mm glass |
| G3 | AK 47 assault rifle up to and including 12 gauge shotgun firing Brenneke slugs | Purpose made bullet resistant pay window glazed in 53mm glass |
PW I Pay Windows
Overall Dimensions
800H x 600W
Wall Opening
810H x 610W
Frame
Two vertical speech posts which provide clear speech transfer.
Top section rectangular aluminium tubing
Counter Top
White Oak with 30mm deep static transfer tray in stainless steel.
For exterior use, a stainless steel clad counter top is provided
PW II Pay Windows
Overall Dimensions
950H x 600W
Wall Opening
960H x 610W
Frame
A 240mm deep hardwood box is provided to accommodate a deep transfer drawer. For exterior use, this is clad in stainless steel
Transfer Drawer
Type CT20A 145mm deep
Type CT20D 185mm deep
Type CT20E 210mm deep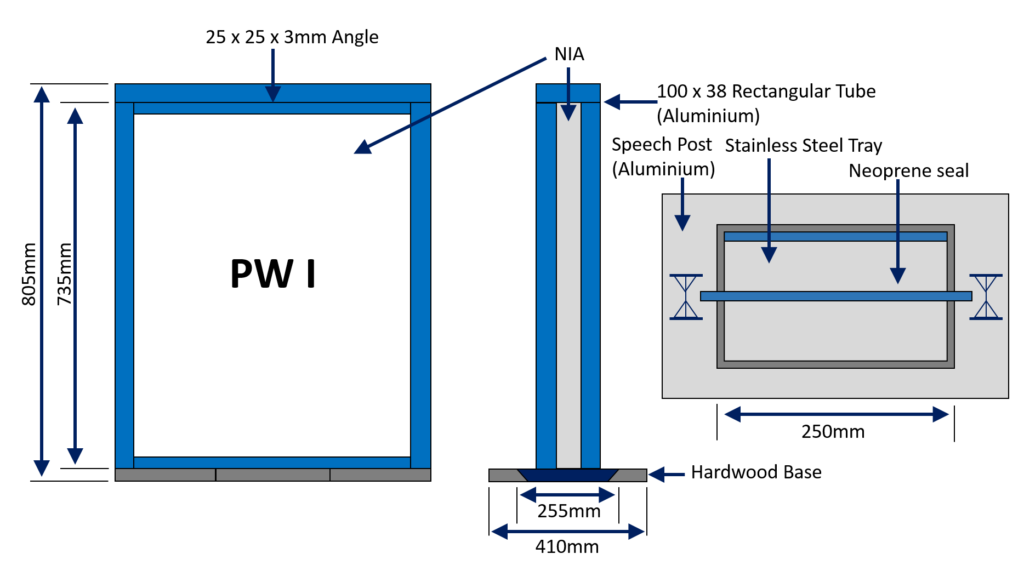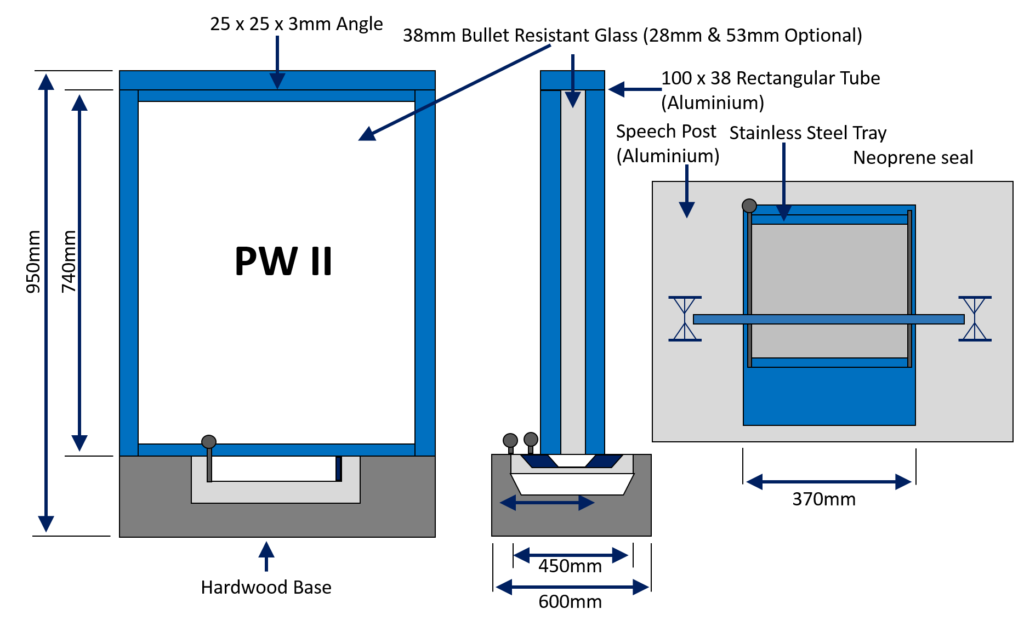 All windows supplied with natural anodized aluminum frame and 32mm post formed oak counter top fitted with a 19mm deep stainless steel dish tray
Window Type 2 Deep Bank Transfer Trays – PWII Classification
Level
Classification
Description
G1
Handguns up to and including 9mm Parabellum
Purpose made bullet resistant pay window glazed in 28mm glass
135mm Deep transfer tray
G1
Handguns up to and including 9mm Parabellum
Purpose made bullet resistant pay window glazed in 28mm glass
200mm Deep transfer tray
G2
Handguns up to and including .357 Magnum as well as 12 gauge shotgun firing buckshot
Purpose made bullet resistant pay window glazed in 38mm glass
135mm Deep transfer tray
G2
Handguns up to and including .357 Magnum as well as 12 gauge shotgun firing buckshot
Purpose made bullet resistant pay window glazed in 38mm glass
200mm Deep transfer tray
G3
AK 47 assault rifle up to and including 12 gauge shotgun firing Brenneke slugs
Purpose made bullet resistant pay window glazed in 53mm glass
150mm Deep transfer tray
G3
AK 47 assault rifle up to and including 12 gauge shotgun firing Brenneke slugs
Purpose made bullet resistant pay window glazed in 53mm glass
200mm Deep transfer tray
All windows supplied with natural anodized aluminum frame and 200mm deep box post formed oak counter top fitted with a stainless steel, bank type transfer tray